Our body "grows older" and the problems are created in our skeletal system through the time, by the daily pressure and the stress.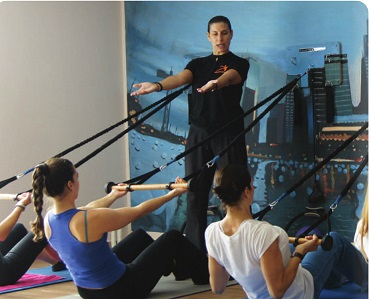 The antidote to all these is the the Pilatesstick workout which helps in the muscle strengthening.
It started as a promising session and it has taken the 1st place the Pilates halls of the large and the small wellness spaces of the pilates & yoga studios in nowadays. This is the easiest, lightweight, portable and adaptable gadget of the recent years in the field of pilates.
The program of the exercises is quite varied and includes reformer & tower exercises and functional pilates too.
The imagination and the experience of instructors expand the possibilities for more exercises when combined with small portable equipment such as balls (fitballs & miniballs), rings (magic circles), elastic bands, toning balls and small wooden bars.
The new version of it includes two slastixs, in which each exercise can be performed for the hands and the feet at a shoulder width, so it becomes even more functional at all levels.
It adapts easily to the walls with rings which someone can buy from paint stores –hardware stores. It adapts to the ballet school bar and  doors which can be secured.
One of the most common applications which we propose is the "marriage" of different pilates equipment in a form of a circuit training. Depending on the area, the number of the devices and the trainees a smart lesson can be set up for ten people with two people per station in the following format:
1st stop: wunda chairs
2nd stop: mats and  large balls (fitball)
3rd stop: 2 pilatessticks
4th Station: 2 mats and elastic bands
5th Station: 2 mats and rings for standing pilates (magic circles)
We choose from five to ten exercises with 20 repetitions or with time (ex. 45 ").
After the completion of the exercises, which are performed in sequence without break, the dyad changes a station and it starts immediately a new set of exercises. After all stations are finished we  relax of two or three minutes.
Varvara Solomonidou,Wellness Specialist, Personal Trainer, Seminar & Conference Lecturer, Pilates Master Trainer "AthensTrainers® Ultimate Pilates System®", General Manager & Owner of AthensTrainers®