Eviol (food supplements) was the official sponsor of the Athens Marathon 2017.During this great celebration, the new application "km for good" was introduced to support the Aegean team's effort to reach as many islands as possible in order to cover their needs.
Why choose Eviol MultiVitamin Energy Plus? We visited the company's site…..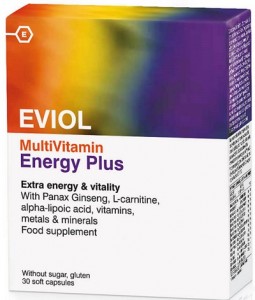 Enhanced combination of vitamins, metals and minerals that contribute to the production and release of energy to the body. The composition is enriched with Panax Ginseng, L-carnitine and alpha-lipoic acid, which provide an extra boost, increased energy levels & powerful antioxidant protection. Ideal for use in the following cases: intense physical and mental activity, sports, fatigue and less balanced diets.
Varvara Solomonidou,Wellness Specialist, Personal Trainer, Seminar & Conference Lecturer, Pilates Master Trainer "AthensTrainers® Ultimate Pilates System®", Member of European Lifestyle Medicine Organization, General Manager & Owner of AthensTrainers®