Fanouropita is a traditional sweet fasting pie (cake) of Greek cuisine and is offered on the day of remembrance of Agios Fanourios, on August 27.
The pie is given to the faithful as a blessing.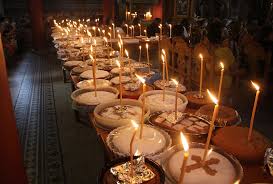 It does not contain butter, so it is an oil cake. Faithful ask with the offer of the pie the "revelation" of objects or people or in general to find something they are looking for.
Μy friend Eva gave me the recipe and I also made a few changes, since due to my "healthy diet"  this cake is my craving for sweet taste.
Ingredients you will need:
4 cups whole-wheat flour (you can use a gluten free one)
3 teaspoons chopped organic baking powder
1 teaspoon chopped baking soda
1 cup acacia honey (or any other honey you prefer)
1 cup olive oil (mixed with linseed oil in a ratio of 4: 1)
1 cup orange juice (if you want a crispy cake then mix 1/2 cup orange juice and 1/2 cup water).
Zest of one orange
1 teaspoon Ceylon cinnamon
A little bit of clove powder
1 cup raisins (golden and black). Soak them 1 hour before you start, drain them and sprinkle them with flour. Finally, add them to the dough.
½ cup with coarsely chopped walnuts or any other raw unsalted nuts you like. They come in together with the raisins at the end in the dough.
Baking instructions:
-Preheat the oven to 180C.
-Mix all the solid ingredients together and in a separate bowl all the liquids together.
-Slowly add the solids to the liquids and stir with a whisk, so that the dough does not clump.
-Finally add the raisins, nuts and mix lightly.
-In a pan, place oil paste and pour the dough.
– It must be a little viscous.
Bake for about 50′-60 '.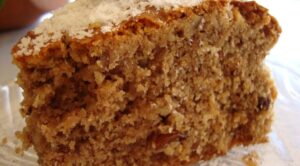 Good luck!!!
Sources
https://el.m.wikipedia.org/wiki/Φανουρόπιτα
Recipe by my friend Eva Iliopoulou!
Varvara Solomonidou,Wellness Specialist, Personal Trainer, Seminar & Conference Lecturer, Pilates Master Trainer "AthensTrainers® Ultimate Pilates System®", Member of Pilates Method Alliance (PMA),  Member of European Lifestyle Medicine Organization (ELMO), DNAFit®  Certified Trainer, General Manager & Owner of AthensTrainers®