A recipe that you need to try!
You will need:
3 cups oil (olive oil mixed with 3 teaspoons of linseed oil)
1 cup of maltitol (approximately 200g)
1/2 cup orange juice
Zest of 3-4 oranges
1 shot of brandy
1 teaspoon baking soda BIO
1 sachet of baking powder BIO
1 to 1/2 kg of oat flour
1 teaspoon Ceylon cinnamon, nutmeg and cloves
1/2 kg of acacia honey for the syrup
1/2 kg of walnuts
Preparation:
Dissolve the soda in the orange juice.
Add in a large bowl the orange juice with the soda, the 3 cups of oil, the orange zest, the brandy, the baking powder, the cinnamon, the clove, the nutmeg, and the maltitol.
Stir until the maltitol melts .
Then slowly add the flour and continue mixing until you have a soft dough.
Mold the dough into oval shapes and place them in  a greased baking tray .
Place the baking tray with the melomakarona in the oven and bake  until they are lightly  browned and cooked through.
When the melomakarona come out of the oven allow them to become cold.
In a pot add the honey with a little water and bring to the boil.
Dip the melomakarona  in the hot syrup, flipping them  to absorb the syrup.
Drizzle with cinnamon and chopped walnuts.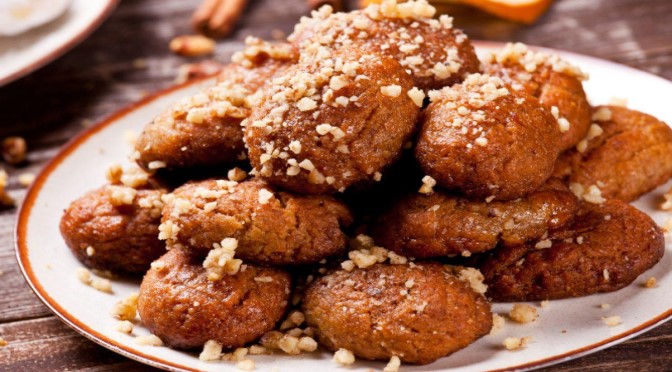 Enjoy!!!
Varvara Solomonidou,Wellness Specialist, Personal Trainer, Seminar & Conference Lecturer, Pilates Master Trainer "AthensTrainers® Ultimate Pilates System®", Member of Pilates Method Alliance (PMA),  Member of European Lifestyle Medicine Organization (ELMO), DNAFit®  Certified Trainer, General Manager & Owner of AthensTrainers®