The only mat and towel that become one.How does it work?
Your yoga practice puts you in the perfect state of mind. We want your OMie Mat & Towel to help keep you there. So how does the OMie tech work? Simply, of course.

A durable OMie zipper is featured on both sides of the mat and towel. So it quickly and easily secures your towel and mat. And it flows as smoothly as your Chaturanga.
Varvara Solomonidou,Wellness Specialist, Personal Trainer, Seminar & Conference Lecturer, Pilates Master Trainer "AthensTrainers® Ultimate Pilates System®", Member of European Lifestyle Medicine Organization, General Manager & Owner of AthensTrainers®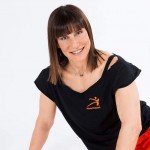 More info:www.omieyoga.com