I fell in love with its color when I saw it…where??? At my favorite place in Mykonos , Liberty Breakfast Room…
A magenta colored smoothie…
I asked for the ingredients and the dosages…they gave me every detail…and today I share this recipe with you..
But at the same time I wondered where this name (magenta) came from….because I always see it as a tone in printing…
Let's start with the smoothie and then…we will find out about the history of the magenta color….
Magenta smoothie
1 beetroot ΒΙΟ
1 handful of fresh spinach
3 strawberries
1 pink grapefruit juice
…and ice cubes …
Use our beloved sport2go blender …and taste Liberty's experience!!!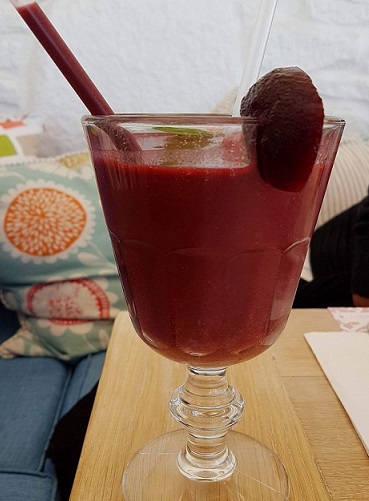 Magenta is made by mixing blue and red. It is the complementary color of green. This color was patented by the chemist Francois Emmanuel Verguin and the first name was fuchsine. The web color magenta is also called fuchsia. It's name changed to celebrate a victory of the French and Sardinian army at the Battle of Magenta June 4, 1859.
We would like to thank Liberty Breakfast Room for the smoothie…and our friend Maria Tzeliou for the photo.
Varvara Solomonidou,Wellness Specialist, Personal Trainer, Seminar & Conference Lecturer, Pilates Master Trainer "AthensTrainers® Ultimate Pilates System®", General Manager & Owner of AthensTrainers®