AthensTrainers® organizes educational seminar about "Pilatesstick®".
Pilatesstick® is the most amazing fitness gadget, a portable body sculpting system and …not expensive…ideal for personal or group training at home, at pilates & yoga studios, at a personal training studio or a gym.
It improves balance and stabilization. You can increase or decrease tension with changes in foot placement, and body proximity to the Pilatesstick®.
The PilatesStick® package includes:
A bar
A Mat
Exercise Guide
Online Exercise Library
Foot Straps
Pilatesstick® Bag
Foam Door Anchor
Carabiner clip for anchor options
Sleeved Resistance Tubing
Just secure it into a door and you have your own springboard with a rolldown bar.
Pilatesstick® seminar simulates many Pilates tower exercises including a variety of exercises:
Roll down series
Foot-leg-abs supine series
Using the loops
Arms supine series
Kneeling series
Standing series
Side lying series
Prone series
The imagination and the experience of instructors expand the possibilities for more exercises when combined with small portable equipment such as balls (fitballs & miniballs), rings (magic circles), elastic bands, toning balls and small wooden bars.
Training material:
The student receives a folder with informative material, pen, block  and Pilatesstick®manual with photos.
Pilatesstick®Seminar Requirements:
The student must have Mat Level I Certification.
International Certification
Soon after the end of Pilatesstick® Seminar, participants receive the International Certification. Automatically their names are listed on our website as a Pilatesstick®Teacher / Instructor capable of teaching.
Sunday, June 11,   13:00 – 20:00
Instructor: Solomonidou  Varvara
Exclusive Training by AthensTrainers ®
Powered by Life Technologies
This seminar is designed for Certified TEFAA Teachers, TEFAA Students, Physiotherapists and Graduates of corresponding Foreign Universities Recognized by the Greek State according  to the  Greek Legislation.
Information & Registration: 6950614115/info@athenstrainers.gr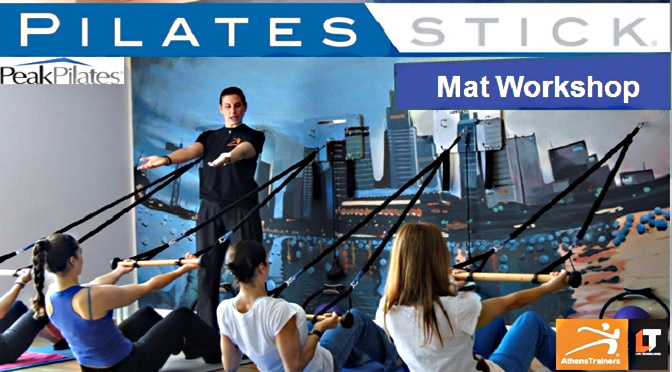 Click HERE for further information.