Varvara Solomonidou was born in Athens in 1967.Ever since she was a child, she had an inclination for sports. By 1989, she was competing in the 200m sprint at a national level, graduated from the Department of Physical Education & Sport Science at the University of Athens (specializing in athletic throws).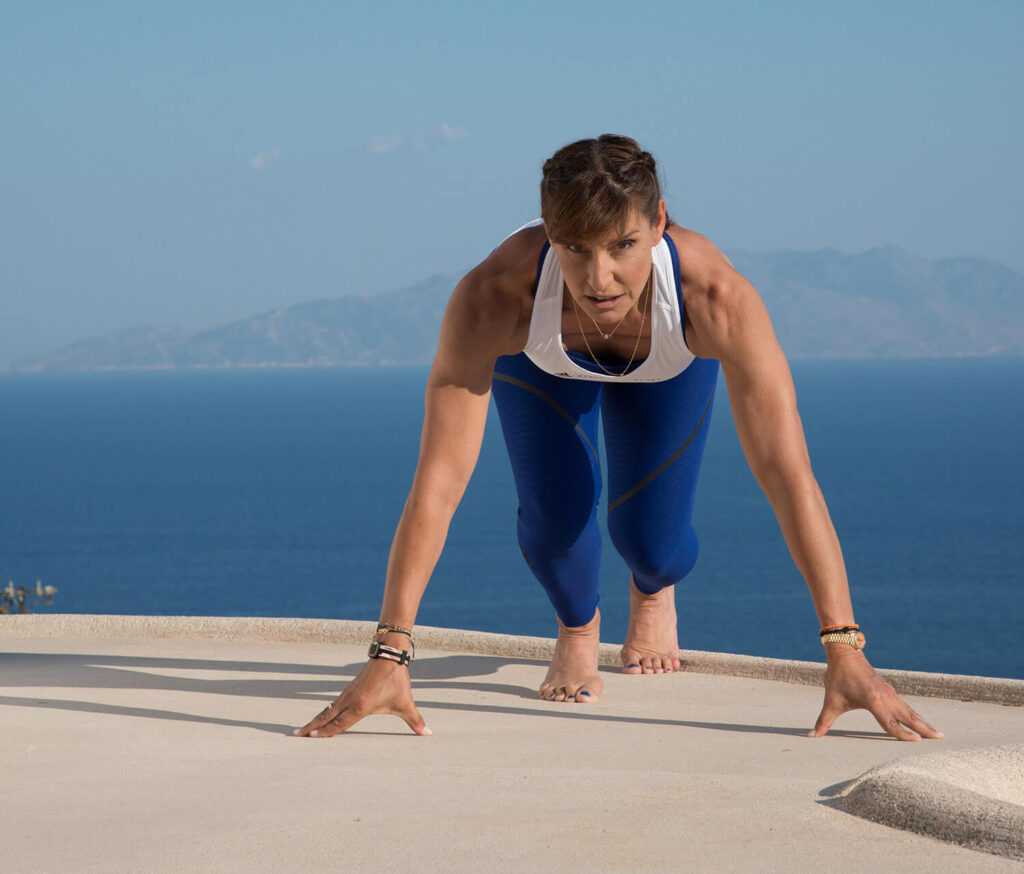 As a student she was responsible for conducting a research program which took place from 01-10-1988 to 14-04-1989, under the theme: "Teaching Methods of PE: affecting the psychosocial and kinetic development of Elementary students."
In 1989, she attended the training at the Physiotherapy department at Aygerinopoulos School in Athens.
In 1989 - 1990, she was responsible for conducting Pan-Hellenic research while working in the Ergo physiology department, under the theme: "Evaluation of Biology dynamics of Greek children between 6 and 18 years old."
She worked for 2 years in different Athletic unions, specializing in "talent scouting", but eventually decided to turn professionally towards gym management and direction.
She has been a "Personal Trainer" and "Wellness Specialist" since 1994.
In 1995, representing ANTAEUS gym, she won first place in the Pan-Hellenic Aerobics competition of A.F.O.
From 1997 she has been training in "exercise during pregnancy".
In 1997, while pregnant, her aerobics team came third in the Pan-Hellenic Aerobics competition of A.F.O...
She has been training in the Pilates system since 1998. Today, she is a MASTER TRAINER PILATES COACH and PHYSIOPILATES MASTER TRAINER.
She briefly cooperated with the Seminars Department at IAFA COLLEGE (1998-1999).
Her BODYMASTER gym aerobics team competed in ATHLETICA 1999-FITNESS DAY and won 1st place.
In 2000, she participated in the Pan-Hellenic competition of Body Sculpting, FITNESS category and won 2nd place.
In 2000, her BODYMASTER gym aerobics team competed in ATLETICA FITNESS DAY IAFA. and won 3rd place.
She has a black belt with 1 DAN in Tae Kwon Do.
She is a CERTIFIED JOHNNY G SPINNING INSTRUCTOR.
She has taught, professionally, a series of classes, called "PILATES SCHOOL", in the "DEUTSCHE AEROBIC ACADEMIE".
She cooperated with the company "GYMNASTICA" from 2004 to 2009 as a seminar lecturer.
In 2006 she was a lecturer at the 20th PHYSIOTHERAPY AND BACKACHE CONFERENCE, " PILATES TECHNIQUE- APPLICATION ON SPINE STABILIZATION " at EUGENIDOU FOUNDATION.
From 2009 she has been training in "exercise and breast cancer".
In 2009, she founded ATHENSTRAINERS®, which she manages, organizes and supervises. The company provides Wellness & Fitness Services in Athens, Mykonos and Gstaad. She was the first in Greece to manage collaboration between personal trainers, doctors, physiotherapists in order to ensure the best possible results for her clients.
She organizes Fitness & Wellness Educational Seminars for for Certified TEFAA Teachers, TEFAA Students, Physiotherapists and Graduates of corresponding Foreign Universities Recognized by the Greek State according to the Greek Legislation.
She is a Certified Kettlebell Teacher Level I IKFF
She is PILATESSTICK® TEACHER TRAINER (14/10/2012) and AthensTrainers® owns
PILATESSTICK®
teaching rights in Greece (international certification) powered by
LIFE TECHNOLOGIES
.
She created AthensTrainers® Running Team, one of the biggest racing teams in Greece, which she used to lead, achieving very good running time in 5 km road races. This year, in collaboration with
DNAFit®
she created the
AthensTrainers® Runners Club
supported by
DNAFit®
.
Education Program Director in the SOFIA Foundation.
She is Babyswimming Certified Trainer.
She is the first to perform online courses and trainings through FaceTime and other social media due to quarantine for Covid-19.
Certificate in Museology with honors (Achieving a score of 98%). This is an innovative distance learning course – part of the Supplementary Distance Education Program of the Center for Continuing Education and Lifelong Learning from the National and Kapodistrian University of Athens.
Certificate in "Applications of Science, Nutrition and Physical Exercise" from the National Kapodistrian University of Athens
Fascial Fitness Trainer & Fascia and the Anatomy Trains Series Certified Instructor