The whole thing started with the idea of surprising my son for his birthday.
The point was that we are both on a nutrition plan avoiding sugar and much more aiming for Health and improvement of the immune system. So, I used carob flour in order to give it a chocolate flavor, and honey instead of sugar.
You need the following ingredients:
4 organic eggs or free-range
3/4 cup olive oil mixed with linseed oil in a ratio of 4: 1
1 cup almond milk
1 teaspoon organic vanilla extract
20g organic baking powder
2 cups carob flour and about 2 cups whole-wheat flour (or gluten free)
4 tablespoons acacia honey
Instructions:
-Mix the oil, eggs and honey. Beat them then with a mixer.
-Add the milk, flour, baking powder and vanilla extract.
-Bake in the oven for 45′-60 'at 180 °- 200 ° C.
I "upgraded» the recipe because I wanted to make a birthday cake. Instead of cream I chose peanut butter * with biscuit flavor. I cut the cake with a wire (you can also use a large knife) so that I have 2 bases. I prinkled in between and on top with peanut butter. I garnished with seasonal fruits, crumbs of nuts and sprinkled with acacia honey!!!! The cake was transformed into a cake!!!!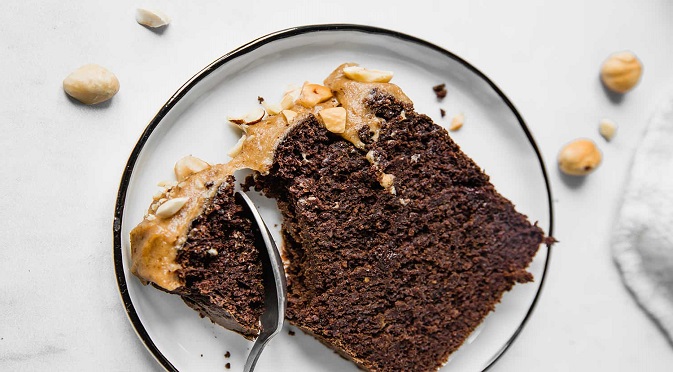 * You can also use hazelnut butter or hazelnut cream. I used PEANUT BUTTER & HAZELNUT CREAM from the supplement company IOGENIX. You can buy them from the shop of Vassilis Pallis in Nikaia, Athens.
If you have any questions, please do not hesitate to let me know.
Good luck!!!
Varvara Solomonidou,Wellness Specialist, Personal Trainer, Seminar & Conference Lecturer, Pilates Master Trainer "AthensTrainers® Ultimate Pilates System®", Member of Pilates Method Alliance (PMA),  Member of European Lifestyle Medicine Organization (ELMO), DNAFit®  Certified Trainer, General Manager & Owner of AthensTrainers®