Children adopt the lifestyle of adults both in student life as well as in their spare time.
AthensTrainers®  designs and runs programs for our little friends combining gymnastics with game.
Our aim is :
The education in basic movement ( sitting, running, rhythm and direction changes)
The development of natural capacity (general strengthening, coordination, sync, elasticity, balance and kinesthisis)
Obtaining a good body posture-orthosomia
Developing self- confidence (each child is a young athlete)
The Fit Smiling Kids seminar includes:
Pilates 4 Kids
SPI 4 kids
Summer activites in and out of the water
Pilates 4 Kids
Pilates exercises can be combined with play and fun in order to be suitable for children!
Children study many hours, grow abruptly and adopt a scooped posture which creates many problems on their spine!!! The Pilates exercise system can be part of their routine physical education program in the form of a game so as not to be considered a burden but a fun activity.
The AthensTrainers® Ultimate Pilates System®  team has created a pilates pair program based on mimetism, good sportsmanship and competition!!!
The exercise program includes 45 pair exercises accompanied by a description of story / motion simulation, so that children already have an image in their minds. Children are in pairs, in different positions, sides and levels. They move in opposite or same direction as a mirror.
SPI for Kids
A training program which aims to introduce our little friends to exercise through play.
Topics
• Basic motor skills
• Creating a group
• Safety
• Equipment ideas
• Team games ideas
Summer activites inside and outside of the water
Topics
• Swimming and playing at the beach/pool
• Water exercises
• Organizing kids
• Games in and out of the water
Training material:
The student receives a folder with informative material, pen, block and  manuals with photos.
Certification
Atthe same day you will receive the Certificate of Attendance.
Instructors
Varvara Solomonidou, Grigoris Dogas
Date
15/3/19
Hours
10:00 -19:00
Location
Iera Odos 307, Aigaleo (close to Metro station)
This seminar is designed for both Fitness & Health Professionals (Personal Trainers, Certified TEFAA Teachers, Pilates & Yoga Instructors, Physiotherapists etc).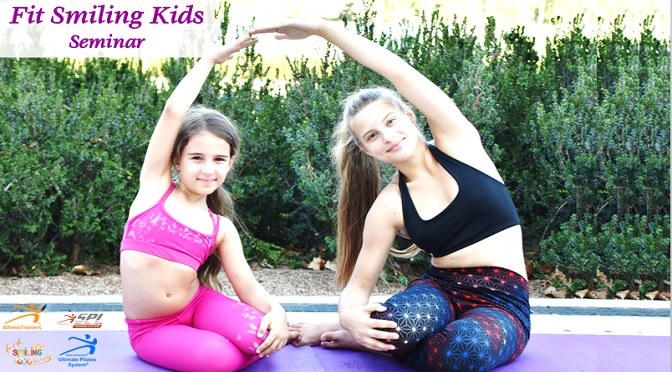 Information & Registration: 6950614115/info@athenstrainers.gr