Varvara Solomonidou local fitness world fixture talks about AthensTrainers®
"Ever since I was a child I had an inclination for sports", Varvara Solomonidou told Athens Plus. A personal trainer in Athens long before the term was even known here, Solomonidou began her sports career in 1985 after graduating from the Department of Physical Education and Sport Science at the University of Athens.
By 1989 she was competing in the 200-meter sprint at a national level, had helped conduct research programs at the university and had won first place in a Greek aerobic games tournament. In addition to working as a personal trainer, Solomonidou regularly contributes fitness articles to the Greek media, makes appearances on television and speaks at seminars.
"I saw the need for personal training very early on and have been offering personal training services in the homes of customers since 1989"Solomonidou said.
Using her  experience and teaching methods, she recently created a Pilates teaching system and also created AthensTrainers®, a company that, for the first time in Greece, grants people access not only to a personal trainer, but to a whole range of fitness, sports, diet and well-being services. The company has trainers who are fluent in English and its services are available anywhere within the Athens area, at any time and to people of any age or fitness level.
Will Athenians respond?
Solomonidou notes that "although the attitudes of Greeks to fitness were different from the rest of Europe or the USA in the past, nowadays, with extensive travel, television and the Internet, there are few differences anymore".
How did you decide on your career and what is your own fitness regimen? 
I've always loved sports, health and fitness. In spite of the fact that everybody expected me to study law, my love of sports proved to be the deciding factor for me. I always look after my diet and try to exercise as much as possible – often with my clients so that I can demonstrate that the exercises are not as difficult as they think.
What is life like  for a personal trainer in Athens? Are many of your clients expats?
Recently many fitness instructors have adopted the title of "personal trainer." This makes the life of professional personal trainers like myself difficult because most
people are not aware of the qualities a personal trainer needs to have. When I started years ago, most of my clients were either foreigners or expats who knew what to expect of a personal trainer. Expats and foreigners are demanding and know what to look for in their personal trainers. Today I also have many Greek customers.
How have attitudes toward fitness and exercise changed in Greece? Have you noticed any new trends?
When I started, personal training was a novel, unknown concept. Few people knew and understood the need. Today personal training is either in a trainee's home or in a gym and has become a way of life in Greece as well. However, there are aspects of personal training that have not yet been established in Greece. An example is personalized training in a group. It allows all types of fitness methods individually tailored for each trainee in a group and allows advanced as well as novice trainees to exercise at the same time in the same place.
For someone who isn't a member of a gym, where is the best place for fitness instruction?
It is on his or her own home. It is always available, does not cost anything and there are many simple ways to exercise there.
What services are offered by AthensTrainers® and who can sign up?
It is the only company to offer a full range of wellness services. These include all types of personal training in different types of sports and fitness with up-to-date training methods anywhere the client desires. Our associates include personal trainers, physiotherapists, reflexologists, masseurs, dietitians, doctors, psychologists and other professionals. We offer seminars such as "AthensTrainers® Ultimate Pilates System®",  for the training of gymnasts and instructors. Anybody can sign up, from small children to pensioners. We design the program for each person individually and offer our services to Greeks and foreigners. Our company has associates who are fluent in English.
Any tips to start getting in shape for the summer?
The best way to get in shape for summer as well as any other time is to work out regularly throughout the year. With the approach of summer, though, it is a good idea to look after one's diet.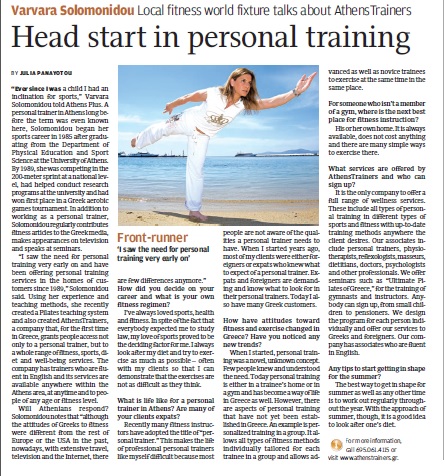 Source: Athens Plus January 29 , 2010