We asked Varbara Solomonidou, personal trainer, to give us advice for a perfect body.There are 10 magical tips she gave us.
You must have been training all year with me or with one of my associates….
"Relax, life is good" as a song says. If you stay for days, work out by yourself 2 or 3 times a week, using a circuit training program or if you feel strong enough contact me!
I would suggest you try a half-hour program at JET VIBE at SUN OF A BEACH in the heart of the island. You will feel the difference in your body. You can also make a SOLARIUM to make your body look perfect!
Swim… at the pool with a swimming aid or noodle or aqua aerobic equipment. Avoid the crowded beaches of the island, where no one really swims. It will be a gossiping topic…
Try having 5 meals per day. And do not miss visiting my friends, Eleni and Marios, at the regional, for a light, cool salmon meal at home and have some  almonds, walnuts and  cashews as an intermediate snack in town or the beach … And if you are smiling you will definitely ensure a treat … a PROSECCO or an espresso!
Avoid eating after a night out watching the sunrise. Just stay with the rest of your coterie, telling yourself that you are not hungry…just thirsty! Otherwise how would you fit in my friend Stavros' clothes?
Drink plenty of water during the day. It is necessary since you will spend several hours under the sun without sunscreen, but with special tanning oils – despite doctors warnings for proper sun protection.
As for the drinks… It is difficult to enjoy the sunset in Little Venice without a cocktail…and what about the night? You need to restrain yourself … a glass or 2 of white wine and then soda, Perrier with ice and lemon …
Improve your relationship by doing different things. Several beaches are ideal for water sports …Have fun inside and out of the water – try jet ski and banana or play racquets – TOGETHER!
And do not forget the special day – for me this day means chocolate! So if you follow the 9 instructions  above, celebrate this day with Argyro's delicacies in Agia Kyriaki or with a chocolate protein bar (I prefer WEIDER's DOUBLE PRO with taste HAZELNUT BANANA) from the closest gym. Above all, you have to strive for the best. Keep  your personal proud.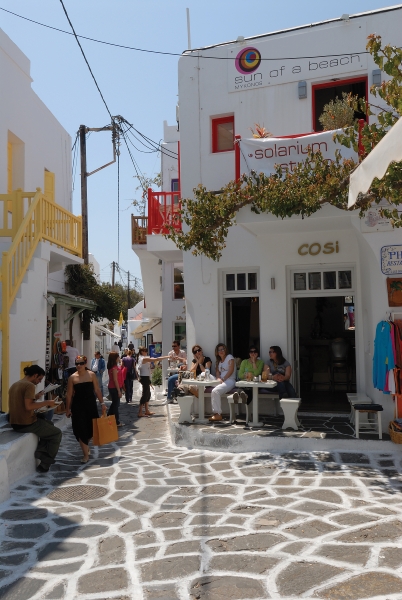 "what happens in Mykonos, stays in Mykonos!"
Βαρβάρα Σολομωνίδου,Wellness Specialist, Personal Trainer,Εισηγήτρια Σεμιναρίων & Συνεδρίων, Pilates Master Trainer του συστήματος "AthensTrainers® Ultimate Pilates System®", Member Pilates Method Alliance (PMA),  Member of European Lifestyle Medicine Organization (ELMO), DNAFit®  Certified Trainer, General Manager & Owner της Εταιρείας AthensTrainers®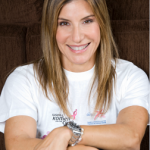 Sources: travelstyle.gr
Mykonos Magazine summer 2009