Food is our medicine. This is the kind of soup you make for serious rejuvenation, recovery and deep immune protection.
This soup is especially useful when recovering from an illness, healing from a major life change, battling an acute condition, or recovering from an accident. The soup can be made with any number of vegetables or meats. Feel free to get creative and add what is local and seasonally available to you. The recipe below can act as a base, and you can work your way up from there.
These superfood herbs and mushrooms help you adapt to stress or deal with it effectively. They work by either calming your adrenal system or preventing your natural stress response from activating in the first place.
This soup is especially useful during the transition from autumn to winter or form winter to spring to prevent getting sick.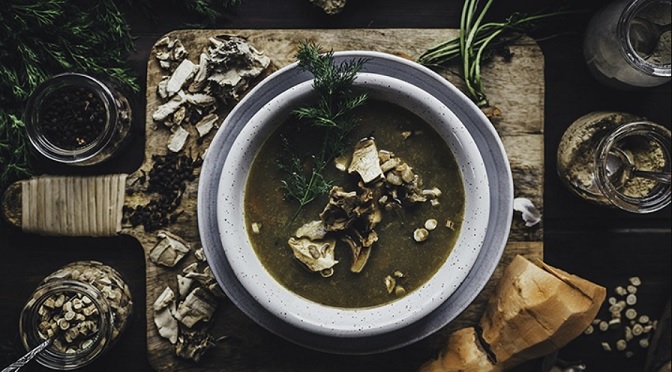 What we need:
• 1 large onion, chopped
• 1 medium-bell pepper or our chili essential oil (optional both of them)
• 4–6 garlic cloves
• 2 teaspoons coconut oil or extra virgin olive oil
• 8 cups water
• 1 large sweet potato, peeled and cut
• 2 large carrots, peeled and sliced into rounds
• A handful of fresh medicinal mushrooms, like maitake, shiitake or agaricus
• 1 small piece of fresh ginger, minced
• 1–2 teaspoons ginseng
• 1 Tbsp of our Reishi powder
• 2 pcs licorice
• 1-2 tea spoon astragalus root
• Salt
DIRECTIONS
• In a large soup pot, sauté the onions, bell pepper, and garlic in oil. If you choose some meat or chicken add it together.
• Right before they caramelize, add the water or stock.
• Add the sweet potato, carrots, mushrooms, ginger, ginseng, in water. Let it simmer for an hour or two in low temperature. For variety, you can add other vegetables here (like shallots, corn, fennel, etc) and your choice of protein or seaweed.
• If you're using our adaptogenic mushroom powders, add in half way of the simmering process.
• After a 1.5-2 hours, turn the heat off.
• Add salt & pepper.
• Add your fresh culinary herbs of choice, such as cilantro, sage, tulsi basil, or other. Place the top back on for it to infuse a couple minutes with the heat off. Serve on a bowl and add in your favorite greens.
What other we succeed?
Boost energy, Improve brain function and memory, Strengthen immune system, Strengthen physical weakness, due to prolonged illness, injury and exhaustion, Calm the mind, nerve system, and anxiety, Regulate blood sugar & Support heart health, what else?
Source:myrro.gr