Reformers are the most popular piece of Pilates equipment.
With its system of springs and ropes, a Reformer provides both resistance and assistance to the exercises. This expands the variety of exercises you can do and allows them to be easier or more difficult, depending on your needs.
LEG & BUTT WORK
SLEEPER

Lie on your side with the heel of the top foot at the edge of the footbar. Straighten your bottom leg, aligning it with your core. Cross one arm over the chest and hold the shoulder block with the other hand.
Inhale and push away from the bar as much as you can. Exhale and return to starting position. Repeat 7 times.
Varvara Solomonidou,Wellness Specialist, Personal Trainer, Seminar & Conference Lecturer, Pilates Master Trainer "AthensTrainers® Ultimate Pilates System®", Member of Pilates Method Alliance (PMA),  Member of European Lifestyle Medicine Organization (ELMO), DNAFit®  Certified Trainer, General Manager & Owner of AthensTrainers®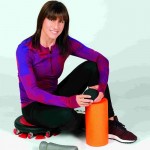 Models: Foteini Alexopoulou and Konstantina Bakara, AthensTrainers® Associates
Clothes: DANCEDREAMS VICKY ZORBA Equipment: HOME REFORMER BENDIS PILATES by BODYBUILDING CLUB
Source: Body Magazine, issue 56