Exercise of the week! You can stay healthy by  maintaining a regular exercise routine throughout your pregnancy. If you have never exercised regularly before, you can safely begin an exercise program during pregnancy after consulting with your doctor. Choose carefully a personal trainer.
Starting position: standing position with the one leg extended   behind you holding the elasic band in front of your chest.
Execution: Inhale and during exhalation lower yourself bending your knees while pulling your arms backwards.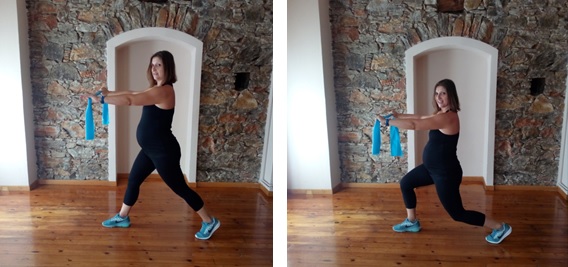 Cues
The front knee shouldn't go over your toes
Keep your spine straight
Variation
You can perform the exercise without moving your hands
You can use a chair for better balance
Christina Nikolia, Personal Trainer, Pilates Instructor, AthensTrainers® Associate