Starting position: Stand next to each other and step forward with your inner foot, holding an end of the band with the outer hand and a dumbbell with the inner hand.
Bend your knees in a 90° angle to perform a lunge while extending the band. Return to starting position and bring the dumbbell   straight in front of your chest.

1 set x 15-20 reps on each side.
To make it more difficult start with legs together and take a long step backwards to perform the lunge.
To be continued….
Varvara Solomonidou,Wellness Specialist, Personal Trainer, Seminar & Conference Lecturer, Pilates Master Trainer "AthensTrainers® Ultimate Pilates System®", Member of Pilates Method Alliance (PMA), Member of European Lifestyle Medicine Organization (ELMO), DNAFit® Certified Trainer, General Manager & Owner of AthensTrainers®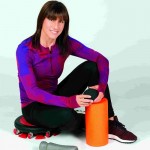 Sofia Papageorga, Yoga & Pilates Instructor, Personal Trainer, AthensTrainers® Associate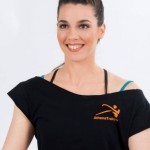 Photos by Eleanna Kourkoulopoulou
BODY MAGAZINE May 2018